Astana Hotels
Welcome to Astana hotels reservation service. Astana-hotels.net provides convenient mean to book hotels in Astana. Review Astana hotels features, compare prices and book suitable for you hotel over our site in Internet.
Featured Hotel in Astana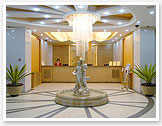 G Empire Hotel
G Empire Hotel
Abay str. 63 Astana, Kazakhstan
The hotel "G Empire" is located in the historical center of Astana city, not far from main traffic arteries, business and cultural centers. Here you will feel in full measure the unique combination of noisy business city with the calm appeased atmosphere of the East.
n/a