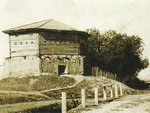 source: astana.kz
The current capital of Kazakhstan Astana is a relatively young and rapidly growing city. 1830 is considered the city's foundation year when the Russian colonel F.K. Shubin ordered to build the outpost on the banks of the river Ishim. In few years the small fortress has grown and in 1863 Akmolinsk (the outpost's name) was declared a district town. By the end of the 19th century Akmola became a major economic and geopolitical center of the region.
In 1961 Akmola was renamed Tselinograd. It was connected with the succession of events: after the record grain crop in the region it was decided to establish the Tselinny Krai (Virgin Lands). The event was followed by the nomination of Tselinograd as the center there.
In 1992 the city was returned its original name - Akmola. In Kazakh language it means the White Grave, or the White Shrine. The name was associated with the same name natural boundary located 20 km from the city, where on top of a limestone hill the tomb of the local ruler is. But there are other versions of the origin of this name as well.
In December 1997 the capital was moved from Almaty to Akmola and already in 1998 the city got the name of Astana, which means "the principal city". The favorable geographic, transportation, climatic, ecological, economic and other conditions influenced the rapid development of the city: it grew as much as 3 times in 10 years' period.
However, long before the foundation of the fortress in 1830, there have been a few settlements there as evidenced by archaeological finds from the Bronze Age and Early Iron Age. It is worth noting Bozok settlement that existed in the 7th – 16th centuries. There the archaeologists found the graves and mausoleums of different epochs and cultures. All this testifies to the geographical significance of the region, which served as the hub between Asia and Europe.