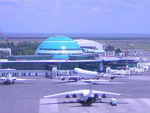 source: planes.ru
The International Airport of Astana, which is located in the heart of Eurasia, is one of the most convenient for the connecting and transit flights.
Its history began in 1963 when it became the replacement of the airfield. From 1997, after the transfer of the capital from Almaty to Astana, the airport started to grow in technical parameters and the level of passenger service. In 2005 its total reconstruction and opening of the new terminal under the guidance of renowned Japanese architect Kisho Kurokawa took place.
The design of the airport is the fusion of eastern and western traditions. The building has five floors, panoramic elevators, escalators, aerobridges, lounges and the system of automatic check-in for passengers, airport shops, restaurants, cafes, a pharmacy, a call-center, Wi-Fi and other. During peak hours the airport is able to service up to 1,000 passengers per hour. Above all, the passengers are offered rooms for mothers and children, prayer rooms, smoking areas, VIP-halls as well as the power network for mobile phones and laptop computers.
Every day the only runway sends up to 40 flights following regional and international routes.