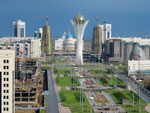 For some cities it takes centuries to grow up, for others - thousands of years, but there are cities that can grow up in several decades only. Astana, the capital of Kazakhstan, is one of the "champions". In the 19th century it grew from a small fortress to the regional center. And having received in 1997 the status of the capital, for 10 years has increased more than 3 times, both in area and in population.
Today's Astana is a large modern metropolis with a fully developed infrastructure, transport network, the social sphere. In 1999 on the initiative of UNESCO, it was awarded the title of the City of Peace. Due to the special economic zone the city became the center of the construction of modern architectural complexes involving such famous architects as Kisho Kurokawa, and Norman Foster. Astana has become the face of the country and is among the top 30 cities of the world.
Geographically Astana is located in the north of Kazakhstan and connects the main transport routes: automobile, rail, and air. The climate of the city can be characterized as sharply continental: winters are cold, long with little snow; summers are hot and dry.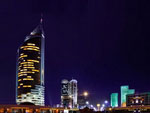 The economic development of the capital is rather rapid. Industry is mainly connected with agriculture, which is distinguished by excellent performance. Lucrative economic ties with companies from the former USSR countries and abroad have been established.
The city transport network is based on the use of modern buses. To maintain the ecological balance in Astana there are plans to build a high-speed light rail underground line and high-speed tramline. Besides, located 16 km from the city is the international airport of Astana, connecting air routes between Europe and Asia.
In Astana there are 14 higher educational institutions, Akmola regional philharmonic society, museums of history and arts, theaters, libraries, etc. Of course, Astana has its own attractions. The most important are Ak-Orda the residence of the President, Baiterek the symbol of the capital, the Palace of Independence for a variety of international events, and the Palace of Peace and Accord - a unique structure designed for the Congress of Leaders of World Religions.
The city has changed during the 10 years of bearing the status of the capital and keeps on growing. Beautiful modern buildings decorate Astana, and at night - the lights and spotlights, garlands, colorful fountains, brightly lit shop windows. Just like Baiterek has become the symbol of Astana, the city itself has become the symbol of Kazakhstan – the symbol of the 21st-century Kazakhstan.

Don't know where to stay in Astana? Check Astana Hotels page!