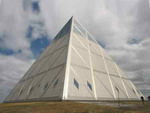 source: liveinternet.ru
The old proverb: "The world fears time, but time fears the pyramids." And indeed, their simple shape and the scale project the idea about the inviolability of those structures. But not so long ago, in 2006, another pyramid joined the lot; the one that some people already call the eighth wonder of the world – the Palace of Peace and Accord in Astana.
The structure was created by the world-renowned architect, Norman Foster, for the Congress of Leaders of World and Traditional Religions. Its uniqueness is not only in the purpose for which it was built, but also in the Fibonacci golden section principle according to which the pyramid was designed. The base of it is the 62x62-m square; the height also equals 62 meters.
There is the concert and opera hall for 1,500 viewers who during the opening ceremony witnessed the concert of Montserrat Caballe. The pyramid has conference rooms, exhibition areas, galleries, and other facilities. The largest hall there is the Cheops Atrium, the area of over 2 thousand square meters accommodating the enormous "General Development Plan Astana until 2030."
At the very top of the Palace of Peace and Accord is located the "Cradle" hall, where the world-famous conference of the leaders of world religions was held. Around the hall stretches the "Winter Garden", a delightful variety of flora from around the world. The large glass dome, depicting 130 doves symbolizing the peoples of Kazakhstan, crowns the pyramid. At night, the dome shines like a beacon showing the way to the symbol of unity of different religions, cultures and peoples.