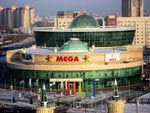 source: panoramio.com
In view of the fact that Astana is constantly growing, and that it is already included in the 30 best cities it is not hard to guess that the sphere of trade and entertainment are also not in standstill. The construction of supermarkets, specialized shops, fairs and shopping malls is in the rapid process in the capital of Kazakhstan. The current centers are the real system, in which it is practically possible to live. Because, besides the standard food supermarket and boutiques with clothes, the modern shopping centers are ready to offer its visitors the plenty of entertainment and services.
One of these giants in Astana is the shopping and entertainment center MEGA, which apart from the set of food supermarkets and boutiques is ready to offer its visitors the cinema with six halls, a children's park with area of a football field and many other. The total area of center is 35 hectares and the advantageous position in the urban development and complete technical equipment contributes to the rapid development of this shopping center.
Another equally large shopping center is "Keruen", which is located in the heart of the capital of Kazakhstan, near the symbol of the country - Baiterek. Everything is created here for the buyer, and most of all to this shopping center the epithet – rational - is suitable. Here everything is thought out and divided into categories: shops are divided as to the budget of buyer, so to his age. It has everything that shopping enjoyed: it is the thought-out structure of the complex, and professional consultants, and industry of services such as beauty parlor, laundry, playground, and much more. And besides, you can relax here – the playing center, plenty of cafes and restaurants provide a wide range of leisure activities.
The peculiar attention deserves the shopping and entertainment center "Khan Shatyry, which was opened in July 2010. It can be called one of the newest landmarks of Astana, because it was made by the famous architect Norman Foster, who designed many buildings, not only in Astana, but also in London and many cities around the world. Indeed, "Khan Shatyry is the town in the city.