Russian Drama Theater named after Gorky.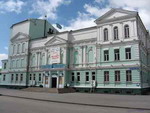 source: fotki.yandex.ru
Although Astana is a fairly young city, it has quite an old theater, founded in 1899, the Russian Drama Theater named after Gorky. For more than a century it has experience the joy of victories and the bitterness of defeats, changed the building, companies and directors. Today it is one of the largest and most popular theaters not only in Astana but also in Central Asia.
Now its stage is the place of more than 20 performances based on works by Shakespeare, Chekhov, Gogol, Cocteau, Mroczek and others. The good tradition there is promoting art to the younger generation: 12 musical fairy tales are on. In addition, the company of the Russian Drama Theatre regularly tours and participates in major theater festivals.
For over 110 years of its existence hundreds of performances on different topics and periods have been staged, but the ideas of the theater's directors has always been focused on the present. The theater continues to bring people the sense of beauty making them cry and laugh, love and hate. Such is the Russian Drama The theater named after Gorky - the oldest theater in Astana.
National Opera and Ballet Theatre named after K. Baiseitova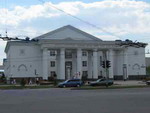 source: avatis.kz
Who would have thought that one of the newest theaters in Astana will be working in one of the oldest buildings in the city. In 2000, after a major restoration at the Palace of the railway workers the National Opera and Ballet Theatre named after K. Bayseitova had its opening night.
The theater building is located near the railway station, and is an example of architecture of the late 19th century. It is decorated with pilasters, pediments, graceful arches and pilasters. Inside, after the extensive renovation, were opened large and small halls, dressing rooms, a recording studio, a restaurant, shops and lounges.
Since its inception, the theater determined the course of its activities by including in its repertoire the works of Kazakh and world music. The theater is constantly working on new projects, contributing to the development of opera and ballet in Kazakhstan. Young talents are given the opportunity to prove themselves worthy and succeed in the theatrical scene.
To implement its ambitious plans the theater started to invite distinguished personalities and famous masters to stage the masterpieces of world opera classics like "Marriage of Figaro", "Cio-Cio-San", "La Traviata", "Eugeny Onegin" and others. Today, Opera and Ballet Theatre has earned recognition not only in Kazakhstan but in the world as well.