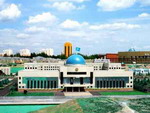 source: astanafoto.com
It seems impossible to travel around any country in 1 hour. Kazakhstan, which is the 9th largest in the world, seems even more so. But there is one possibility to do it – you can turn into Gulliver for a while and see the entire country right before your eyes. Just visit the ethno-memorial complex the "Map of Kazakhstan – Atameken", designed by renowned architects and designers.
The park was opened on Sept. 8, 2001 by the initiative of President Nazarbayev. Such a fun way of presenting histories of cities, countries and peoples is popular in many countries: Austria, Belgium, Britain, Germany, Switzerland and others. Around the world there are 17 of similar complexes.
The area of 1,7 hectares, which is about two soccer fields, comprises the cotton and rice fields of the Kyzyl-Kum, the gray Burabai, ancient temples, the Pyramid of the World, the rushing rivers of Alatau, Karaganda's coal and oil of the Caspian Sea. There you'll see the country's 14 provinces and 2 major cities - Astana and Almaty. The nature and landscapes, architecture, and transport networks of the country can be clearly seen there too. The number of exhibits on the complex has already exceeded 200 and continues to increase steadily.
The heart of the park is an open forum with the arena for celebrations, meetings and other events. In addition, there are a lot of craft shops where you can buy souvenirs produced by masters of applied arts as well as souvenirs from different regions of Kazakhstan.
This complex is yet another shining symbol of the country illustrating the diversity of this vast country. But there is only one question: is there the model of the park itself?