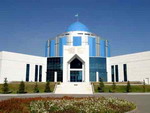 source: resurs.kz
One of the most beautiful buildings in the architecture of Astana is the Presidential Center of Culture of Kazakhstan. From high above it appears as a circle emitting four rays to the four parts of the World. The circle is the five-storied museum crowned by the blue dome reflecting Turkic traditional architecture. The total area is 20,000 sq.m. The Centre is the synthesis of the spiritual heritage of the country and the cultural traditions of the people, having united under its vaults the State Museum of the Republic of Kazakhstan and the Republic Public Library named after S. Seyfullin.
The Museum of the Presidential Center of Culture is not only for the exhibits that reflect the historical development of Kazakhstan it is an excellent opportunity to understand the past and the present of the Republic. The museum features 143,000 artifacts related to archeology, ethnography, history, culture and arts. Compositionally it is divided into several blocks:
The Collection "Gold of Berel" is dedicated to the opening of the burial mound near the village of Berel in 1998. The unique artifacts and household items related to the era of the early nomads (the 4th – the 3rd centuries BC) have survived in their original shapes thanks to the permafrost. The archeologists consider such findings very rare.
Quite interesting is the collection of gifts to the President of the Republic of Kazakhstan from the heads of states and governments of many countries. Their diversity demonstrates the wide cooperation of Kazakhstan with the countries of the world community.
The collection "Ethnography of the Kazakhs" is the reflection of the traditional lifestyles of the Kazakh people. There are the objects of culture and lifestyle – a Kazakh yurt, furniture, tableware, clothing, jewelry and many more. The most striking and valuable exhibit is a bride's headpiece – saukele - made in the beginning of the 19th century.
One of the most interesting is the private collection of musical instruments belonging to B.A. Sarybaev, which consists of 315 items. Each of them has its unique features. The materials for those instruments were clay, cane, wood, bones and horns, sinews and horsehair. There are also the tools for different conditions of nomadic life, which used to belong to shamans, shepherds, soldiers, amateurs and professionals.
The Library Cultural Centre is the repository of knowledge on the history of Kazakhstan from alpha to omega. In addition, there is a large fund of public and scientific literature. In total the library boasts more than 700 thousand items stored in various media. But the most valuable part of the book fund is the collection of rare editions dated the end of the 17th and the beginning of the 20th centuries, all in all over 3,000 books.