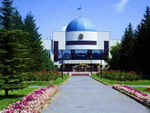 source: ucoz.ru
Many people are interested in top officials' lives, their biographies, activities and even their presents. The chance to see all of it with your own eyes is provided by the Museum of the First President of the Republic of Kazakhstan. It is located in the former Head of the State residence and has preserved its interior, decorative objects, and the overall color of supreme power life.
The basis of the museum's collection is made of the gifts presented to the President during various international meetings: paintings, books, souvenirs, and weapons. The gifts geography covers a lot of countries. The collection of superb hand-made weapons and souvenirs made from precious metals and stones is truly amazing.
Today the number of artifacts exceeds 60 thousand. In addition to the gifts the museum displays archival materials, photos and documentaries, personal belongings and awards of the President. The museum also arranges lectures and exhibitions of children's creativity, seminars and thematic tours.