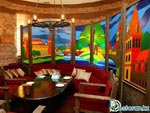 source: restoran.kz
The era of castles is in the far past, but people even today are eager to plunge into the atmosphere of Middle ages: not for nothing millionaires buy castles of counts, and the admirers of history engage in reconstruction of clothing and weapon of that period, and after that hold the role plays by motifs of famous battles. Astana has the perfect alternative for admirers of battles. It is the restaurant "Line Brew", which is made in the form of castle.
At the entrance there is the graceful fountain, completely copying the famous sculpture in Brussels. Then there are strong doors that swing open to visitors and lead to the vaulted hall of the restaurant. Arches, stained glasses, lancet windows with forged lattices, thick walls, beam ceilings and other - all this creates the image of true abode of the knights of the Middle Ages. In addition, in the center of the main hall of the restaurant is a living fire, on which the cook prepares its meat dishes (shashliks, steak, kebabs, etc.). The aroma of roasted meat directly stimulates the appetite. In addition, the restaurant's menu includes dishes of European cuisine and a great selection of Belgian beers.
For those, who desire to stay in private, the restaurant "Line Brew" can offer 5 VIP-halls of different purpose and small hall for candlelight dinner, and the symbolical round table for business negotiations an even the hall to stay alone, which is located on the level of sixth floor and where there is the great panorama of Astana.
Besides that, the restaurant has live music: sounds of violin and saxophone will supplement the evening in "Line Brew" and will make it just fairy-tale. Here everyone can feel himself the king or knight, and ladies can image herself princesses and queens.